Meetings are crucial for business operations, collaboration, decision-making and progress. Yet manual scheduling can be tedious, time-consuming, and unproductive which hampers effectiveness.
That's where appointment scheduling apps come in handy. They eliminate the hassle of back-and-forth emails and enhance productivity.
How? With scheduling software you can create booking pages that can be shared with your invitees, who can then choose their preferred time from your available slots and book the meeting. When scheduling apps are combined with online calendars such as Google or Microsoft, you now have a scheduling superpower.
Today, we will explore five exceptional meeting scheduling tools that offer both free and premium paid plans and can seamlessly synchronize your appointments with any calendar of your choice.
zcal

Doodle

Calendly

YouCanBook.me

Picktime
Most of these scheduling apps offer a "Free" plan that will cover basic features with an option to upgrade to a paid plan. Let's see how they all compare.
1. zcal Has a "Free Forever" plan that has many features other platforms keep behind a paid tier.
Feature highlights:
Unlimited scheduling links and calendar accounts

Email reminders

Zapier integrations

Advanced scheduling settings (ex. event limits, buffer time, minimum notice)

Redirect after booking

Stripe payment integration

Group events

Video conference integrations

Custom questions

No ads ever
zcal is the fastest way to schedule every meeting. No more emailing back and forth, switching tabs to see your calendar, or checking off time slots to find the best meeting time. Schedule 1-on-1's, team meetings, and more with our modern, easy-to-use web app.
Unlike other scheduling services, zcal has an intuitive, modern design that requires no learning curve to get started. It also offers the most generous "Free Forever" plan, which includes many of the premium features that other apps charge for.
With zcal, you can connect unlimited Google calendars (work, personal, etc.) and Outlook calendars, and it can auto-check them for meeting conflicts and only show the times on your booking pages when you are available. It offers integrations with video conferencing providers including Zoom or Microsoft Teams as well.
2. Doodle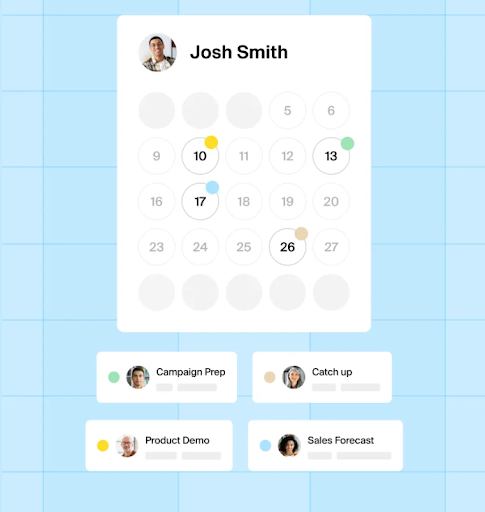 Has a Free plan with the following basic features and a paid plan starting at $14.95/mo (if paid monthly).
Feature highlights:
Good for coordinating time with a team

Unlimited Meeting Polls

One booking page

Google and Outlook calendar integration

Connects with video conferencing tools
Doodle is a decent scheduling tool that is most popular for creating meeting polls with suitable time options to find the best time for a group of people. Instead of going back-and-forth in emails, participants can easily vote for the best times that work for them and as an organizer, you can schedule the meeting with just a few clicks.
Doodle can integrate with various calendar options such as Google and Outlook. This helps with ensuring the scheduled events integrate with all participants existing workflows.
One limitation is its lack of customization options. While Doodle has essential scheduling features, it does not offer the same level of personalization and flexibility as other tools.
Another drawback is that many users find Doodle's free version somewhat limited in terms of its functionality. In order to access its advanced features, such as calendar integrations, reminder notifications, and team functionality, users need to upgrade to one of Doodle's paid plans. The pricing plans are tiered, which means it allows users to choose the plan based on their specific requirements and budget.
3. Calendly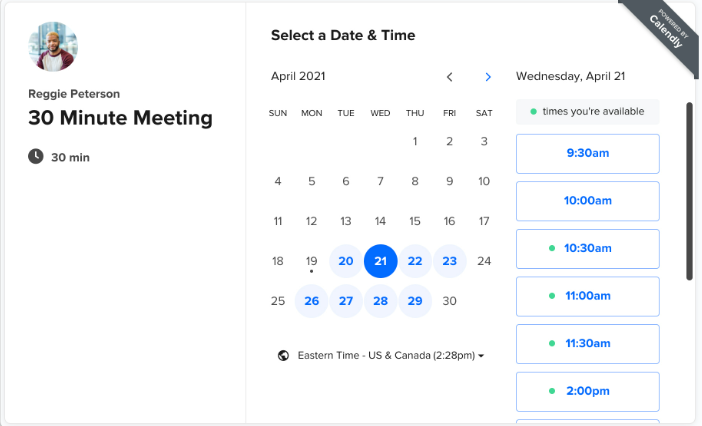 Has a Free plan with limited basic scheduling features and a paid plan starting at $10/mo (if paid monthly).
Feature highlights:
Easy for invitees to use

Calendar and video integrations

Automatic reminders

Single-use calendar link

Responsive design for all devices

Google Chrome extension

Multiple meeting type options
Calendly is a well-known online meeting scheduling software that lets you create booking pages to share with your invitees. However, one of the biggest caveats is its free plan is very limited. Another one that often gets talked about in online scheduling communities is that Calendly pages come across as impersonal and generic in nature.
Although there is a slight learning curve to set it up, it is simple to utilize for meeting invitees. It supports various languages and can automatically adjust to the user's time zone. You can integrate your booking page with Google Calendar, Office 365, Outlook, and iCloud within Calendly Free plan. Additionally, it works with video-based apps like Zoom, Microsoft Teams, and GoToMeeting.
Calendly offers multiple paid plans if you need premium features such as more than 1 invite link and calendar connection, email reminders, payment integration, or customization of the booking page etc. The paid plans start at $10/mo (when paid monthly) for the premium plan and go up to $20/mo for Teams plan. Every new user gets a 14-day free trial to test out all the paid plan features and after that, you will be switched to the basic plan. As you start requiring more advanced features, Calendly can quickly become expensive but you can consider other free alternatives to it.
4. YouCanBook.me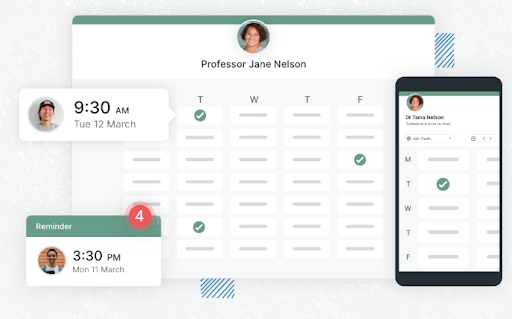 Has a Free plan with limited features and a paid plan starting at $12/mo (if paid monthly).
Feature highlights:
Automated workflows

Connects to Google Meet, Zoom, and MS Teams

Multiple appointment types on one page

Round Robin for teams

Booking form questions

Export your data

Password protect your booking page
YouCanBook.me (YCBM) is another scheduling platform that is used by many individuals and businesses mainly looking for advanced workflow automation. YCBM has both free and paid plans.
The free plan offers basic scheduling functionality with a limited set of features, unlike its other alternatives. The free plan includes features such as allowing you to connect 1 calendar connection and create up to 10 booking pages. You can also add a video conferencing integration such as Zoom, Google Meet, or Teams to your booking links.
The paid plan offers advanced features such as unlimited booking pages, group invites, multiple calendar connections etc. The customer support for free accounts is restricted to the knowledge base and community forum while paid plan users get email assistance.
5. Picktime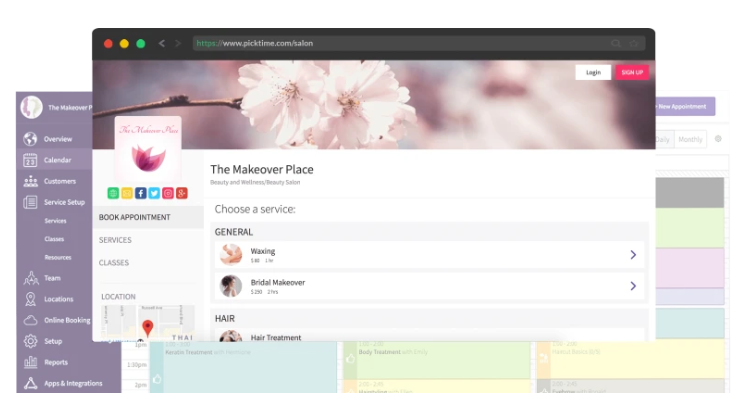 Has a Free plan with limited features and a paid plan starting at $9.99/mo (if paid monthly).
Feature highlights:
Two-way Google Calendar integration

Unlimited appointments and meeting types

Import and export contacts

Recurring bookings

Calendar and video integrations

Google Chrome extension

Team management
Picktime is a decent scheduling solution with both free and paid plans. The free plan offers features like unlimited appointments, 2 locations, 3 team members, and email notifications. It also offers integrations like PayPal, Google, and Outlook calendars, etc. Note that the calendar connection in the free plan is limited to one-way sync. You may manage employee (up to 3) calendars and make recurring appointments using Picktime for free.
In the paid plan, you get video conferencing options like Zoom and Google Meet, which are mostly offered for free in its alternatives. Two-way calendar sync is also available in the paid plan.
The Picktime user interface is clear and looks professional. Even if your invitees are not tech-savvy, they can pick it up fast. However, there is a bit of a learning curve with setting it up.
Customization is one area where Picktime falls short. You can change your primary image, but changing colors or other elements may not be possible. But if you are looking to create more personalized booking pages that better reflect your brand, you should consider other options mentioned in this list.